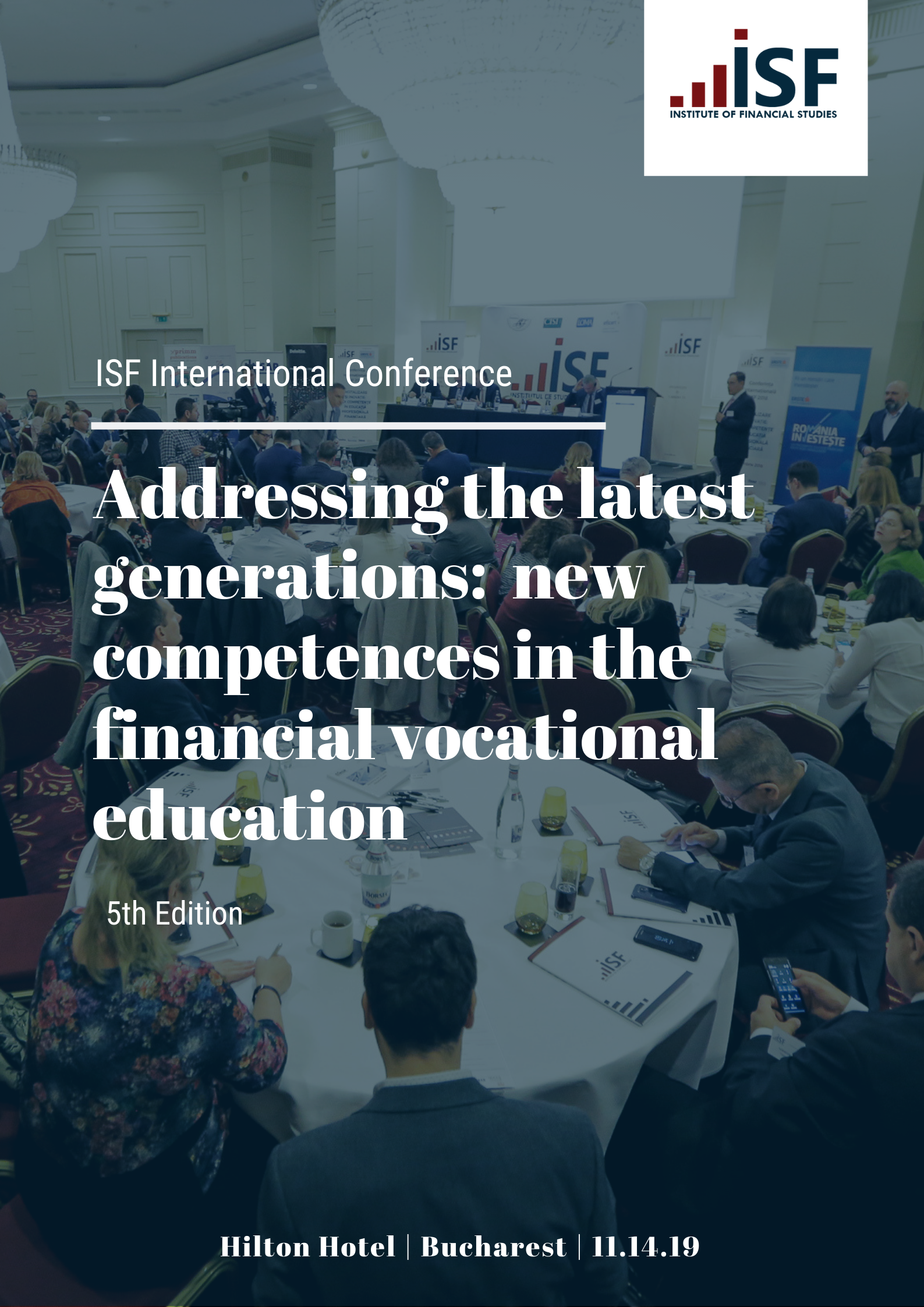 For the fifth year consecutively, the Annual International Vocational Conference of the Institute of Financial Studies proposes a common ground to debate the impact of international legal provisions on the national markets and also an exchange of ideas for the active players on the financial markets. 2019 is year we focus on the attractiveness of financial services for the Millennials and Generation X, on their expectancies concerning employment and the preparedness of employers and training suppliers from financial sector, as response to the potential employee/client. The event will also deal with the operational modifications of financial institution after 1 year of IDD, MiFID II, AML and GDPR. FinTech solutions will be borne in mind during the panel sessions of this year's event.
The Institute of Financial Studies is pleased to invite you to the International Conference " Addressing the latest generations:  new competences in the financial vocational education", organized in Bucharest, on November 14th, 2019 between 09.00 and 17.00.
The fifth annual conference proposes a series of debates on topics of interest, such as:
Financial services revolution – insurance, bancassurance, innovation and Fintech Optimization and digital transformation in financial services sector Life-long-learning systems for current generations Future financial products for Millennials Professional competencies – between assumptions and reality The Future of Insurance/ Capital market – Competing in a World of Sectors Without Borders
RSVP: Laura Elly Naghi, e-mail: evenimente@isfin.ro , phone: +40757.352.031

 
Platinum Partner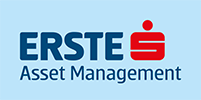 Gold Partner
Partners
Educational Partner
Media Partners
 Vin d'honneur offered by
09.00 - 09.30 - Welcome coffee
09.30 – 09.45 Opening speeches
Daniel ARMEANU - Vice-president, Financial Supervisory Authority
Leonardo BADEA - Vice Governor, National Bank of Romania 
 
Special Guest
Ligia DECA - State Counsellor
09.45 – 13.30- Morning session I
Calin RANGU - President, Institute of Financial Studies
Adrian MARIN - President, UNSAR
Antonio SOUVANNASOUCK - President, PRBAR
Dorel DUȚĂ - President, UNSICAR
11.00-11.15 - Coffee break
11.15 - 13.30 - Morning session II
Interactive panel on CAREER OPPORTUNITIES IN THE FINANCIAL SECTORS
Adrian MARIN - CEO, Generali
Virgil ŞONCUTEAN - CEO. Allianz Țiriac Asigurări
Gabriela Lupas TICU - CMO ,NN Asigurări de Viață
Cătălin CÂMPEANU - Deputy Director, ISF
Camelia STĂICULESCU - Director Career Development Center, ASE
Adrian MITROI - Associate Professor Bucharest University of Economic Studies
 John Madinger - AML Aware
13.00-13.30 - Book Release
13.30 - 14.30 - Lunch
14.30 - 16.30 -Afternoon session
Financial services Revolution – Insurance, Bancassurance, Innovation and Fintech Panel
Călin RANGU - Director, Autoritatea de Supraveghere Financiară
Andrea VETRONE - Specialist, EIOPA
Viorica PĂCURAR- Director NN Asigurări de Viață
Sorin IACOB - CEO GT Motive
Cees WERFF - CEO President & CEO CCN Claims Corporation Network
Ludo PYIS - Președinte AREOPA
Mihaela CÎRCU - Project Manager APPA
Financial Products for the Future Generations Panel
Valentin IONESCU - Director, Autoritatea de Supraveghere Financiară
Alina Steluța PICA - Executive Director, Erste AM
Damir KERVINA- Euroins
Ludo PYIS - Președinte AREOPA
Acad. Lucian ALBU - Președinte Consiliul Științific, Institutul de Studii Financiare
Prof. univ. dr. Ion STANCU- Director General, Institutul de Studii Financiare
Larisa GABUDEANU, Theodor Adam, Victor ROTARU - experți


16.30 - 17.00 - Vin d'honeur

Ștefan Daniel Armeanu
Vicepresident ASF
 Mr. Stefan Daniel Armeanu is the Vice President of the Financial Supervisory Authority (ASF), in charge of the Private Pensions Sector, from November 2018. Previously, starting in November 2014, he was a non-executive member of the ASF Council. With more than 20 years experience in the field of economic university education, Mr. Armeanu is currently a doctoral professor at the Faculty of Finance, Insurance, Banks and Stock exchanges within the Academy of Economic Studies (ASE) in Bucharest. Since 1998, he has been, in turn, trainer, assistant, university lecturer doctor and associate professor doctorate at ASE, but also lecturer at the Romanian Banking Institute and doctoral professor at the Faculty of Administration and Business at the University of Bucharest. Between 2007 and 2013, he acted in two insurance companies in Romania. Mr. ftefan Daniel Armeanu is a doctor and doctoral supervisor in Finance-Insurance of the Academy of Economic Studies. He is a graduate of the Faculty of Finance, Insurance, Banks and Stock Exchange (ASE) and of the Faculty of Mathematics (University of Bucharest), but also of two master's programs. He is a member of the National Center of Excellence in Comparative Management Studies within the Management Faculty (ASE), was a founding member of the Financial-Monetary Research Center of the Faculty of Finance (ASE) and a laureate of Professor Bologna. Since 2009, Mr. Armeanu has been present in the Top 5% of Romanian authors, realized by ROPEC, being author or co-author of over 15 books, but also of numerous articles and specialized studies.

 
Ligia Deca
State Counselor

 Ligia Deca is a State Counselor within the Department of Education and Research of the Presidential Administration, having between responsibilities and the coordination of the activities of the Educated Romania project. He has a PhD in political science from the University of Luxembourg and has completed this year a post-doctoral internship at the College of New Europe. She is the publisher, author and co-author of numerous books and articles published in prestigious magazines. Between 2010-2012 he coordinated the Bologna Process Secretariat and organized the Conference of Ministers of Education. He is a member of the Fulbright Commission's Board of Directors and is a member of the European Award for Excellence in Teaching in the Social Sciences and Humanities awarded by the Central European University (CEU).

Leonardo BADEA
ViceGovernor BNR

Mr. Leonardo Badea is the Vicepresident of National Bank of Romania from October 2019. Between June 2017 and October 2019, Mr. Badea was President of Financial Supervisory Authority. With nearly 20 years of experience on the field of economic university education, Mr. Badea was the Vice-rector at Valahia University from Targoviste, and Dean at Faculty of Economics of the same educational institution.He obtained consecutively a Senate and Deputy mandate in The Romanian Parliament, occupying the positions of Secretary of the Budget-Finance, banking activity and capital markets Commission from Senate, and President of Budget-Finance Commission from the Chamber of Deputies. Mr. Leonardo Badea is doctor in accounting at the Bucharest Academy of Economic Studies and graduate of the post-doctoral school in economics of the Romanian Academy. At the same time, he is a member of the European International Business Academy (EIBA) and a member of the Centre D'etudes sur le Développement International et les Mouvements Economiques et Sociaux (CEDIMES). Mr. Badea has a sustained activity in editorial and scientific councils of economic publications, being editor of the "Scientific Council of the Journal of Accounting, Finance Add Auditing Studies" in Turkey, editor of the "Valahia Journal of Economics Studies", CNCSIS B + and member of the editorial board of "Theoretical and Applied Economics", CNCSIS B +.

 
Călin Rangu
Director ASF
President ISF

  Mr. Calin Rangu is double-licensed, PhD in neural networks applied in the financial series, MBA graduate, university lecturer, scientific researcher, ASF director of the Directorate of Supervision, Intermediate Control and Conduct Rules, President of the Institute of Financial Studies, Vice-Chairman of the ITF Committee of the European Insurance and Occupational Pensions Authority (EIOPA), member of the Consumer Protection and Financial Innovation Committee of EIOPA, member of the EFICERT Board (European Financial certification Organisation), coordinator of the InsurTech HUB of ASF. He has over 20 years of experience in the financial-banking field,  over 15 years of private sector management (Raiffeisen Bank, Raiffeisen Informatik Austria), in BNR, IBR and ASF. He published more than 150 articles, and two books, being an organizer or speaker at major Romanian Conferences related to consumer protection and rules of conduct, financial-banking, information systems, technologies and financial innovations, operational risk management, cyber security, alternative dispute resolution, etc. 

 
Alina PICA
Executive Director, SAI Erste Asset Management

Nearly 20 years experience in the Romanian capital market, with legal and compliance expertise. Knowledge accumulated both within the regulatory and supervisory authority (C.N.V.M. - the current A.S.F.), as well as within prestigious (financial) institutions in Romania, such as S.C. Ernst & Young Assurance S.R.L. and Raiffeisen Capital & Investment S.A. Within the SAI Erste Asset Management S.A., Alina Pica oversees the legal and compliance activity, financial and operations activity, operational risk, as well as the project management component.

Gabriela Lupaș ȚICU
Chief Marketing Officer, 
NN România

 With a rich experience in developing business around the consumer, Gabriela Lupaş Ţicu took over the position of Chief Marketing Officer at NN in April this year. Gabriela graduated from the Faculty of International Economic Relations and has expertise in product and brand development, consolidated. in companies recognized in the field of consumer goods.
 
 

Prof. Ion STANCU PhD
General Manager ISF
 Mr. Ion Stancu is an University Professor on Bucharest Academy of Economic Studies, Finance Department, Master Manager "Financial Management and Investments" and PhD supervisor with expertise in the following areas: Financial analyze and planning, Evaluation and financing the investments projects, Capital markets and portfolio management. In this regard, Mr. Stancu recommends for consulting the following papers:"FINANCES. Financial markets and portfolio management. Direct investments and theirs's financing. Financial analyze and management of the enterprise" (2007), "Corporate Finances in Excel" (2012), and also "Corporate Finances 1st vol., Financial analyze and planning of the enterprises" (2015). Mr. Stancu has a vast experience in financial higher educational reforming programs (license, master, phd.) and international university cooperation as dean of Finance, Insurance, Banks and Stock Exchange Faculty (1993-2004) and as vice-rector of Bucharest Academy of Economic Studies (2004-2016). As manager and member in research projects has analyzed the impact of arrears, financial crimes, environment protection, durable development, social responsibilities, etc. on companies' performances and economic growth. Starting with 2003 acts as administrator of SIF Banat -Crisana and Romanian Bank. From 1993 is CECCAR member and from 2000 is CAFR member.

 
Viorica PĂCURAR
Sales Director 
NN Asigurari de Viata

Viorica Păcurar has almost 22 years of experience in the field of insurance sales. Throughout her career, she has built and coordinated extensive sales networks throughout the country, with proven performance and results in continuous consolidation. At the same time, he dedicated himself to training professionals in this field, getting involved in developing the professional skills they need to help Romanians to secure their financial future. From the position of retail sales manager at NN Life Insurance, Viorica Păcurar is responsible, together with a team of over 1500 financial consultants, for the development and implementation of the national retail sales strategy for life and health insurance of NN. 
 
Sorin IACOB
CEO GT Motive

 Mr. Sorin IACOB combines IT&C experience and studies with the last 11 years of Business Intelligence activity in the automotive, insurance and financial services sectors. Among the notable projects we listed his involvement in the implementation of the Electronic Archive of Real Estate Guarantees, the digitization of the car subscription processes or integrated end-to-end projects for the management of car repairs. Graduate of the Faculty of Automation of the Polytechnic University of Bucharest, he has been active in the segment of strategic clients for companies such as DIGI and Euroweb Romania and has led the operations of EurotaxGlass Romania. Since January 2015 he is Country Manager for Romania and Hungary of GT Motive.
 

 
Dorel DUȚĂ
President UNSICAR
 Mr. Dorel Duță was elected President of UNSICAR in Decmbrie 2017, he is the representative of the non-banking financial market in the coordinating College of the Alternative Dispute Resolution entity SAL-FIN. He has a rich experience in the insurance industry, for over 22 years. He graduate the Faculty of Law, holds a management certificate obtained at the Open University Business School and has a series of specialization courses in the insurance field. Since 2000, Dorel Duta has become an associate and director of the Hobbit Insurance Broker, a company specializing in the corporate area.

 
Adrian Marin
President UNSAR
CEO Generali

Mr. Adrian Marin has an experience, for over 20 years, in insurance, the career he has formed in Generali Romania, where he held various functions, from senior underwriter to head of office or department director and then top management positions. Since September 2011 he is the General Manager of the General Romania, a position he is currently occupying. In the period 2010 – October 2016 he was a member of the Executive Board of the National Union of Insurers and Reinsurers in Romania (UNSAR), where he was actively involved in supporting projects initiated at Union level, and from October 2016 he was elected President UNSAR. Between 2013 – 2014 he was also a member of the Insurance Europe Strategic Committee.


Virgil ȘONCUTEAN
CEO
Allianz Ţiriac Asigurări
 Virgil Soncutean has over 18 years of experience in insurance fields, and from September 1, 2016, a position assumed by CEO of Allianz-Tiriac Asigurari, while the largest local insurer according to gross premiums subscribes in the first semester of 2019. He joined the Allianz-Tiriac team in 2001, and until 2006 he worked in the sales area and sales management, first as director of the training department, and then as regional sales manager. In 2006, a co-opted to encourage team Allianz from Germany, and for family years a coordinating program for transforming organizations in all parts of the Allianz Group in over 20 countries. A distribution management consulting division within Allianz Group OPEX (now Allianz Consulting), as well as the CEEMA regional consulting possibility of Allianz Group OPEX. On January 1, 2013 Virgil Soncutean took over the position of sales director and distributes in Allianz-Tiriac, becoming also if he is a member of the board of directors of the company. from Babes-Bolyai University Education in Cluj-Napoca and will hold an executive MBA at Kellogg School of Management.

 
Antonio SOUVANNASOUCK
President PRBAR

 Antonio SOUVANNASOUCK, a graduate of the Polytechnic Institute of Bucharest, has made a career in insurance for over 26 years and is since 1996 Managing Partner at ASIGEST the first brokerage company in Romania. He is also a member of the Board of Directors of ASIGEST Broker SPA, presenting in Italy, Bulgaria, Serbia, Morocco, Germany and Turkey. His long experience is characterized by an expertise rich in corporate risks, unanimously recognized in the insurance market. In fact, he is a 2005 lecturer at the Insurance and Pensions Institute, the current Institute for Financial Studies. Starting this year, he is President of the Romanian Patronat of Insurance and Reinsurance Brokers.

Valentin IONESCU
Director ASF

Mr. Valentin Ionescu is director of the Finance Strategy and Stability Directorate of the ASF, Mr. Ionescu has been active for 20 years in the field of investigation and supervision. Position of ASF as delegated director of the Directorate for Strategy and Financial Stability (January 2015 - September 2015) and of the director of the Integrated Supervision Directorate (2013 - 2014). The professional activity also includes positions such as that of the general director of the Bucharest Stock Exchange (2010 - 2011), of the Commission in CA in Sibex, SIF Moldova (2012 - 2013) and of the President of the CA in the Central Depository (2010 - 2011), but also International experience - Euro Invest Bank Gmbh Austria (Head of Sales, 2009 - 2010) and Wood & Co Czech Republic (Senior Sales Trader, 2007 - 2009). Mr. Valentin Ionescu graduated from the Academy of Economic Studies, the Faculty of Commerce, an MBA and a certificate for the financing of George Town University in the USA.

 
Mihaela Cîrcu
Project Manager
APPA

 Mrs. Mihaela CÎRCU is Project Manager at APPA - Insurance Promotion Association – the ONG that has developed the first national consumer information and education campaigns – also she is the Development Director of XPRIMM, a Romanian company specialized in the insurance industry in CEE and EEA. Mihaela has a 14 years experience in private insurance and pensions in Central and Eastern Europe. Graduate of Bucharest Academy of Economic Studies, Mihaela is also licensed CII - Chartered Insurance Institute in the UK.

 
John Madinger
President
AMLAware

John Madinger's law enforcement career spanned 35 years as a criminal investigator and narcotic agent. Assigned for more than 20 years to the Organized Crime Drug Enforcement Task Force and the Hawaii High Intensity Drug Trafficking Area Task Force, he was a specialist in money laundering, asset forfeiture, and financial investigations. A court-certified expert witness on money laundering, he is the author of Money Laundering: A Guide for Criminal Investigators, Third Edition" (2011), and has provided training on money laundering and financial crime to law enforcement, prosecutors, judges, and regulators in more than 20 countries around the world. He has a BA in Criminal Justice from Indiana University and an MA in History from the University of Hawaii. He currently works as an Economic Crime Advisor for the Department of the Treasury, providing technical assistance in the areas of money laundering, terrorism financing, and financial crimes investigation to governments in Africa, the Middle East, and the Caribbean. As President of AMLAware, LLC, he also produces AML training for the insurance and financial sectors worldwide.In addition to three editions of Money Laundering, he is the author of Confidential Informant: Law Enforcement's Most Valuable Tool (1999) and his first novel, Death on Diamond Head, was published in 2008. He has received awards for academic writing, novels, text books, short stories, and poetry.

 
Andrea Vetrone
Expert on Supervisory Oversight, EIOPA

 

Mr. Andrea Vetrone joined the EIOPA Oversight department in April 2018. EIOPA Oversight's main role is enhancing the convergence and coherent application of the European Union law in the insurance sector while developing an European common supervisory culture. Mr. Vetrone is also involved in the EIOPA InsurTech TaskForce as coordinator the activities in the field of cloud outsourcing.Previously, Mr. Vetrone worked as Manager for KPMG Advisory in Italy where he managed the design and the implementation of the operational risk management frameworks of several insurers and banks.Before joining KPMG Advisory, Mr. Vetrone was Project Manager for the Group COO Area at Generali where he contributed to the definition and the implementation of some of the group operational governance policies and procedures (such as Group Outsourcing Policy and Group Business Continuity Management Policy).Mr. Vetrone holds a Master degree in Management and a Bachelor in Business Administration from the Universita' Cattolica del Sacro Cuore.

Cees WERFF
President and CEO 
CCN Claims Corporation Network

 Mr. Werff is the Global insurance executive with a track record of designing and executing strategy, driving change and innovation and delivering top and bottom line results. Founder-President-CEO of Claims Corporation Network B.V. Previously advised InterEurope AG through a MBO phase, designing a business development culture, expanding operations to CEE region and a diversification of products and services. Previously led VAI through the redesign of a multi-line TPA service provider, creating a culture of compliance, product diversification and improving client relationship management. Prior managed ING Global Network through development and implementation of a network strategy business model and consolidation of previously separate subsidiaries and sales forces. Strengths include P&L management, risk management, merger execution, strategic leadership, sales management, public and government relations and media affairs.

 
Ludo PYIS
Founder of AREOPA

Mr. Ludo Pyis is the President and Founder of AREOPA, a worldwide consulting group, specialized in Change Management,  Intellectual Capital Management, Applied Knowledge Management and Risk Process Management.  He is a Faculty member of Management Centre Europe and member of the European Commission Expert Groups on Valuation of Intangible Assets (2006) and on IP Valuation (Accounting and Reporting 2013). Mr. Pyis has obtained a Master degree in Industrial & Organizational Psychology, Business Administration at the Free University Brussels (VUB). Mr. Ludo started his career as management trainer for General Motors, and as European Quality Manager and V.P. Organisation Development at Hewlett-Packard. He is a guest speaker at several international conferences and seminars on Intellectual Capital Calculation & Management and on Disruptive Innovation.

 Larisa GABUDEANU
Expert

Data protection expert, with a vast experience as a lawyer in an international law firm, counselling international clients and coordinating projects related to banking, IT law and data protection . In addition, she has good knowledge about information security and risk management gathered in a banking regional group and from her specialized education (in addition to graduating the Law Faculty, Larisa also graduated from the Informatics Faculty at the University in Bucharest and is currently finalizing the Information Security Master with the Faculty of Cybernetics).


 Theodor ADAM
IT Expert

Graduated from the Faculty of Electronics and Telecommunications (UPB, 1995) and Academic Postgraduate Management Studies (UPB, 2002), worked in the IT, Financial and Legal Services industries. He has a 24 years IT experience, of which, 19 years as IT leader. Experienced with application development management processes, infrastructure, business continuity and disaster recovery, strategic planning, management by objectives, project management and IT operations.

 

Victor ROTARU
IT and DPO Expert

 IT and DPO expert, with a vast experience in information security management and operational management, having an international and multicultural exposure in international banking groups, as well as teaching experience with IBR (Romanian Banking Institute) and ISF (Financial Studies Institute).

 

 
Damir KERVINA
Chief Product and Operations Officer,

VouchForMe

 Having combined engineering skills with startup business development, Damir Kervina has extensive experience in bringing novel IT services from the concept phase to the market. In the past he managed R&D projects and co-founded a German IT startup.

 
Acad. Lucian-Liviu ALBU Phd.
Romanian Academy

Lucian-Liviu Albu Phd., economist (ASE, Faculty of Cybernetics and Economic Statistics) is a full member of the Romanian Academy, director of the Institute of Economic Prognosis and PhD supervisor at the Romanian Academy. He is the founder of the Romanian Journal of Economic Forecasting (since 2007 the first ISI magazine for the Romanian economy). In 2000 he was the Minister of Labor and Social Protection in the Isarescu Government, and in 2010-2019 he was a member of the first Fiscal Council in Romania. From 2009-2015 he was the representative of Romania in the "Network of experts in the field of gender equality" (EC - DG Justice). Abroad, he started his teaching and research career after 1989, through projects obtained through competition from the European Union and other international bodies (World Bank, UN, USAID, Belgian Scientific Research Fund, Flemish Research Fund, British Academy, CINADCO, GDN etc.), as well as in the external exchanges of the Romanian Academy. He has benefited from two long-term research internships won by EU projects, at Sorbonne, CEPREMAP, 1995 (Felow Researcher), and at the University of Leicester, CEES, 1997-1998 (Honorary Visiting Professor) and collaborated with prestigious professors. and researchers from the West (including Nobel laureates for economics), attending over 100 international conferences (including as a special guest) and over 80 scholarships, grants and research internships (of which 30 in inter-academic exchanges), at institutes and universities abroad (most of them from EU countries, but also from China, Switzerland, Iceland, Israel, Russia, USA, Taiwan and Turkey).

Camelia STĂICULESCU Phd.
Director, Career Counseling and Guidance Center

Camelia Stăiculescu Phd. is director of the Career Counseling and Guidance Center (CCOC) at the Academy of Economic Studies in Bucharest. She is a graduate of the University of Bucharest, the Faculty of Pedagogy, with specializations in Vocational Counseling, Doctor of Education Sciences and she is teaching in the Department for the Training of Teaching Staff. It has a rich activity in educational projects, especially in adult training activities and student counseling.He coordinated and conducted, together with the CCOC team, studies on: the demands of employers regarding the competences of the graduates, the insertion of the graduates of higher economic studies in the labor market, the expectations of the students in relation to the future profession, etc.

Florentina ALMĂJANU
CEO
CFA Society Romania

 Florentina Almajanu has over 22 years of experience in the management and representation of professional associations in the financial field, where he coordinated public affairs campaigns, lobby actions, PR campaigns, communication and advocacy. Florence leads from the position of General Manager the organization CFA Society Romania , member of the CFA Institute, the institution that administers the certification of CFA (Chartered Financial Analyst), one of the most prestigious in the world, among the professionals in the financial field. In the more than 20 years he has led the activity of the National Union of Insurance and Reinsurance Companies from Romania - UNSAR, Florentina has actively contributed to obtaining tax deductibles for private health insurance, to important legislative changes in the insurance field and to increasing the association's notoriety and credibility. The recognition also came from the fact that UNSAR won the Golden Award for Excellence at the Romanian PR Award 2016, the category of Public Affairs, Advocacy, Lobby with the campaign "The future of the health system starts NOW", a project developed by the Point Public Affair agency. Politehnic Bucuresti, Faculty of Energy, nuclear energy specialization, with a Master in Finance and Insurance at the Academy of Economic Studies Bucharest, and a scholarship at the University of Wisconsin in La Crosse, obtained in the speculation of "Health and Pension Risk Management Fund", Florentina and - has improved communication, representation and public speaking skills through courses at the National University of Theater and Cinematographic Art "IL Caragiale ", trainings in the field of public affairs and advocacy and trainings conducted by the Royal Academy of Dramatic Art - RADA for Business.